At the New Frontiers of Technological Innovation and Alternative Futures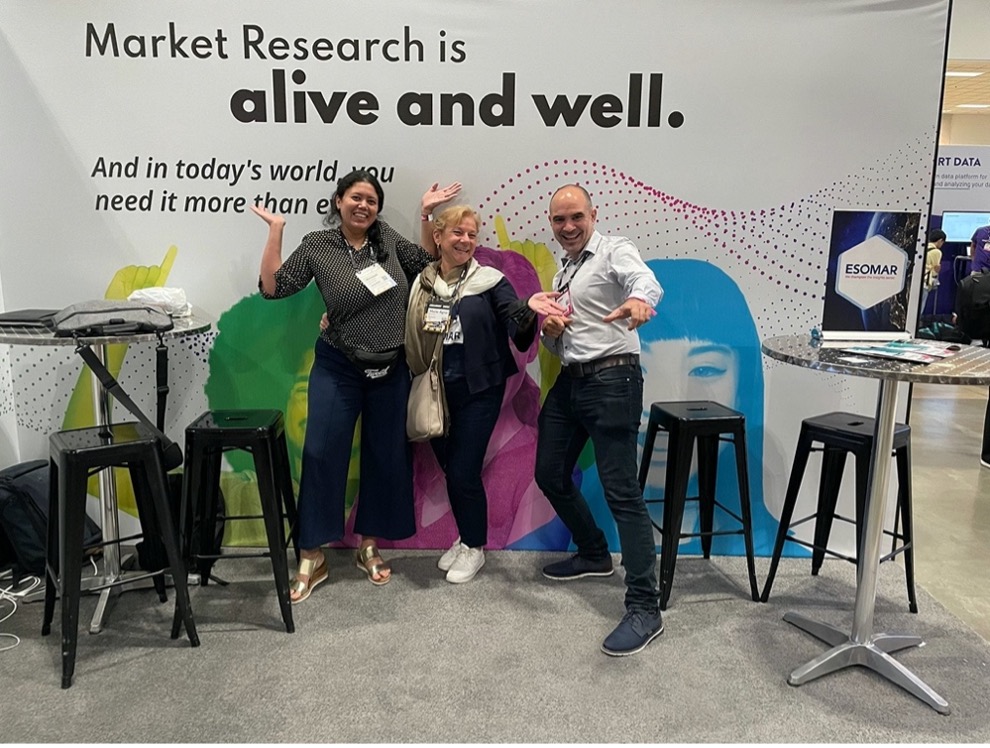 By Arundati Dandapani, MLITT, CAIP
"In-person" is Back – with Twists and Turns
My first in-person conference post the pandemic happened right before the launch of a CRIC cannabis insights committee when I attended the The Lift & Co. Expo, in November 2021, witnessing a rather desolate and seller-dominant attendee base for the highly regulated legal cannabis sector. Since then, in-person conferences have truly come back into their own in this summer of 2022. From IIeX in Austin, Texas, to the IAPP's Canada Privacy Symposium (May 2022), and then The Web Summit's Collision in Toronto, Canada (June 2022), the desire for in-person networking appears to be resurgent.
As individuals and organizations navigate the hybrid worlds of "online", "offline", "both" and "neither" with varying degrees of success and inhibition, the history of the future of work rewrites itself with fair bits of trepidation. If we intend to keep supporting women and other diverse leaders beyond the pandemic, we need to offer options that fit their needs, routines and values post the pandemic. Respecting that translates to empathy, opportunity and actions that improve the condition of employees and will stay central to navigating these brave new worlds of the workplaces of the future.
Technology the Tough Enabler
Responsible technology is about the technologist and creator working together to serve better uses or markets for a certain technology, while also understanding ways people can misuse that technology, according to Rebecca Parsons, CTO of Thoughtworks. Malicious intent is never the purpose of creating technology, unless you're a malicious actor. Facial recognition technology, location technology on cellphones are among many examples of technology that has been misused. Tracking technology, she said, is met with difference in opinions about privacy violations and a matter of "perspectives" where some people prefer more personalization (and being tracked for it) than others. However, accessible technology can be easily misused. Online learning is a hotly debated example of not levelling the playing field where access to technology differs. Inclusion is all about understanding how representative the training data of our audience is; and interrogating datasets and identifying for data biases and missing data all are part of the good practice in building and using responsible technology, offered Parsons.
"Technologies are morally neutral until we (technologists) apply them. It's only when we use them for good or evil that they become good or evil," said William Gibson. 
There are enough jobs out there for AI ethicists and ethics in technology implementation that will leverage the best of human judgement in creating educated, informed users. More than 50% of technology industry workers said they would quit their jobs if their employer utilized workplace surveillance, according to a Morning Consult poll. The same survey revealed that 60% would not take a job at a company that used surveillance technology, and that 7 in 10 tech workers did not believe their organization used surveillance technology, all pointing to a perceived higher standard for privacy protections in tech companies.
Robotics are the best kept secret of pandemic-era tech advancements, and a panel comprising Anthony Jules, Founder and CEO at Robust AI, Matt Rendal, Founder and CEO at Otto Motors and Elaine Reyes, Anchor at CGTN America, extolled the powers of leveraging this fast-approaching "golden age of robotics and automation" to grow human productivity and build competitive advantage and superpowers for workplaces traditionally reliant on humans for "robot-level work". Building robots to fit the human reality is another challenge facing organizations as they must train robots to cooperate and collaborate in ways that grow the business and add to the economy and GDP. Nikita Singh, Co-founder and Chief Product Officer at Artificial, added that technologists must focus on enhancing the applications and internal life (programs, content) of the robot than just be obsessed with its physicality. However, both Marie-Agnes Mourot and I agreed that what was missing from this conference was a mature life-size navigation robot to direct attendees, partners and speakers, to signal the drastically changed times we are leading.
Building Resilient Brands
President of ESOMAR, the global data, analytics and insights association, data advocate and serial marketing technology entrepreneur and leader Kristin Luck's panel on building profitable/sustainable brands of the future offered timely insights into the expanding role of the data, analytics and insights industry as more and more data and technology enter our lives. The discussion went into elements of ESG and sustainability and the power of purpose-led brands, a topic that has also been covered on the CRIC blog by Ray Kong.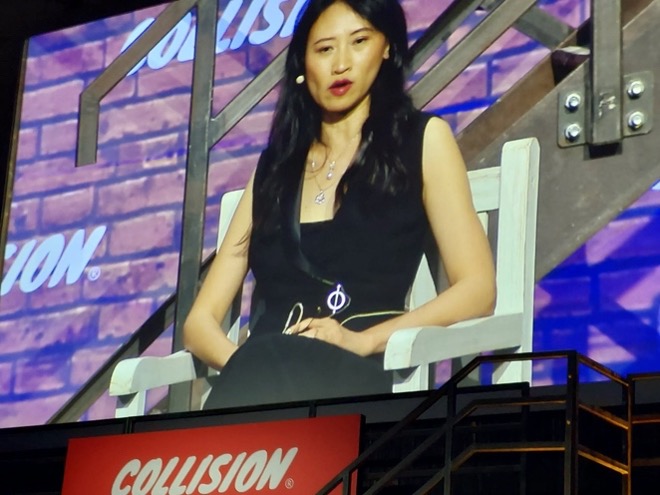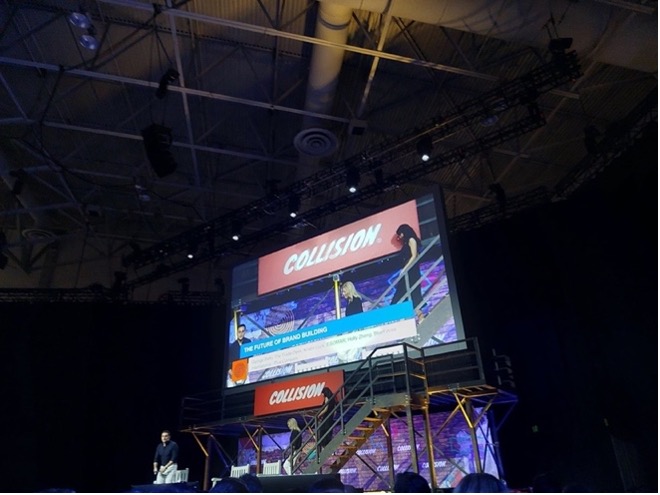 Brands are not in competition with one another but with the future itself. The opposite of bravery is not cowardice but conformity, challenged Brian Collins, Founder and CCO of Collins, a design practice for brands. A brand is a promise performed consistently over time, from story and experience, to how they make you believe and behave. In designing the brand universe of Spotify, Collins had to keep returning to Spotify's simple founding mission to "create a service that is better than piracy and compensates the music industry." Mirror marketing (pointing to your audience in your creatives) and dull two-colour (black and green) design was not working for Spotify. Collins stepped in to change the visual language and build new brand symbols. Music is a national pharmaceutical, it either makes you feel more of what you feel or changes your emotion instantly; it can't be about performance and data, thought Collins, who decided their creatives had to be about emotion and ended up with design that was "bursting with emotion" with primary and secondary images, later leveraging data through a stream of campaigns from the smallest banner ad to their largest event. Transforming a product engineering team into one of the highest-powered creative teams in the world, Collins expressed pride in his work with Spotify. His subsequent work with Twitch, today's king of livestream gaming, involved tapping into the "nerd" of everyone to attract gamers and non-gamers to the platform through design thinking. "Design is not what we make, but what we make possible," concluded Collins.
Conferences with a strong app (arguably Collision's app was above par but with room for perfection), will ensure the recall value of your conference is high. Collision app's access to select on-demand videos of concurrent sessions, relaxed the pressure on attendees trying to cram in networking with simultaneous sessions, allowing attendees partners and exhibitors to maximize their value out of drop-ins and networking. For example, I highly appreciated catching up with colleagues from ESOMAR (cover picture), Leger, and many others who expressed the same sentiments.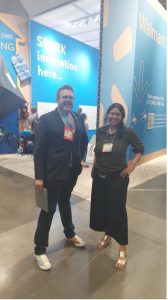 The Startup Showcases were a definite focus of this conference, spanning topics ranging from AI, Machine Learning, Advertising, Data Science, NFT, Robotics, AR, VR, and lots more. Strong startup pitches reflecting the diversity of not just the tech industry but also Canada and the world, made for a constantly buzzing start-ups stage. Some examples were:
Trust is on the decline in media, in governments and in religion, but the opportunity for storytelling and an ESG strategy to cement that broken trust has never been brighter.
And while it's easy to dismiss these as US statistics (Pew Centre), global data also corroborate a similar waning trust across societies.
Many among the Millennial and the Generation Z generations believe that capitalism is not working for them. Collision was there to level the playing field among innovators and super-tech-minded start-ups in all stages of their business journey.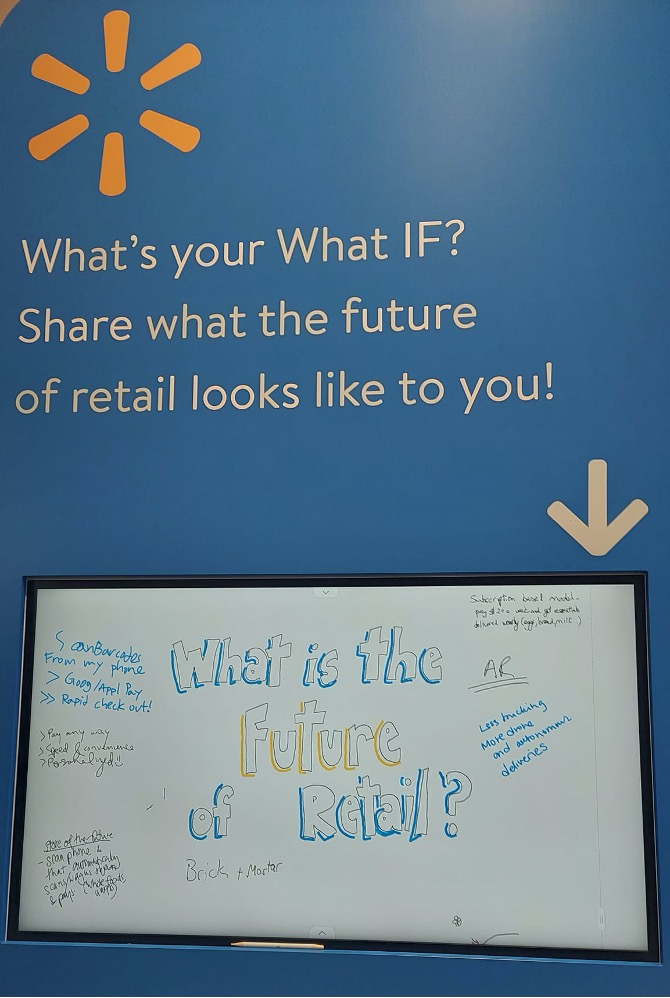 "Access, choice and efficiency" have been the cornerstones of Walmart's 60-year brand strategy, declared their global CTO Suresh Kumar. They incorporate ML, AI, AR and VR to project supply chain models and merchandise flows to deliver greater efficiencies on their brand promise.
Presentations for this global trends and technology-driven conference were categorized in themes that could be selected based on your top ten interests, for example: technology, politics, content, web3, future societies, financial services, AI, and machine learning, etc. Key takeaways from this conference of relevance to the research, analytics and insights industry would be as follows:
Disruption was that buzzword of the past 5 years. But today it's replaced with diversity, sustainability, and accessibility. Nearly every session and start-up pitch had an ESG component to it. Trust in brands in North America and globally that take a stand remains a lot higher than those that don't express their higher purpose, thus losing connection with an increasingly activist consumer base across cohorts but especially among Generation Z and Millennials. So, if you don't have an ESG strategy yet, you might want to get some insight from this webinar featuring sustainability leaders.
Ideas are amazing but their application and translation into action that's scalable is hard and happens only when you can think (big) like an elephant, start (small) like a mouse, and move (fast) like a rabbit, according to Networking as a Service (NAAS) founder and CTO Bas Wouterse. Building (just like moneymaking) always takes longer than you think even when you consider Hofstadter's Law. For example: Virtual Reality (VR) was first commercialized in 1991 (thirty years ago) and only now is it mainstream; similarly machine learning was first commercialized 60 years ago. NFTs are still "toddlers" and will take their long course too. The good old virtues of patience and persistence can go a long way.
A winning content strategy has a few simple attributes, and is generally platform agnostic, from traditional newspapers into podcasting, webinars, the metaverse and web 3.0. However, Michelle Manafy, Editorial Director of Digital Content Next, who chaired several of the content makers sessions onstage, advised that avoiding jargon makes for more engaging content, and it is "content" and "ease of use/convenience/costs" that differentiates Netflix from the rest in the "streaming wars" based on research from Deloitte and Nielsen. The word content on its own does not begin to capture the information, impact, depth, breadth, complexity of stories, critical information, arts, culture, of a context, as it is the path into the homes, hearts, and minds of everyone you are targeting and not targeting in the whole wide world!
Work with caution, sensibility (brand authenticity), and informed adults when venturing into NFTs for crafting your brand strategy. A couple of years ago, I launched the world's first blog post on the blockchain, but it's still a far cry from mainstream, and a format dominated by males at both the engineer and the founder-level. Mobile gaming however is a lasting opportunity that will outlive the pandemic, its adoption is clearly higher in BRIC countries and led by India. The more commonly understood name for e-sports is "competitive video games". NFTs will ring in a level of granularity and sophistication in digital storytelling in unprecedented ways, according to award-winning actor Bethany Brown. "Within 18 months, every single person in this conference room will own an NFT whether they want to or not or whether they know it or not," warned Dorian Banks, CEO at Looking Glass Labs. Why not leverage these alternative futures of creator-centric business models with powerful social storytelling
Good leadership is heavily reliant on effective and impactful storytelling. It's all about prioritization and allowing technology to be a true enabler by figuring out what the story is and how it can be improved to address some of the biggest problems, opportunities, and pain points. NFT disrupts most content models by rewarding content creators and artistes to gain from the value they create for their communities and audiences. When speaking to the power of leveraging emotions at scale and movement in the digital economy, NFT and Blockchain pioneer Olive Allen, demonstrated the revolutionary world of web3 by her simple act of burning her Russian passport in protest against her government's war against Ukraine that was recorded and became viral.
Privacy has never been this hot for those in data and yet it will not be until a generation later that we witness the benefits of certain privacy protections and consent procedures. Big tech can be confusing, intimidating. Privacy protections as they stand today fall into more a user's responsibility given the current legislative scenarios and early stages of maturity/development of technologies vis-à-vis legislative and consumer preparedness. Privacy education can be gained from not just teaching or learning how technology works but by understanding and communicating about how to use technology (e.g., using a private browser like Nivoo versus Google). Last week Canada's Bill C-27: Digital Charter Implementation Act saw its first reading in the Parliament's House of Commons. Given the multi-jurisdictional aspects of technology-enabled companies, products, services, and talent in today's business landscape, it becomes urgent for leaders to stay on top of privacy laws and concerns locally, nationally and globally, and hold ongoing conversations about privacy with the organizations and individuals we transact with.
Concluding Thoughts about Collision 2022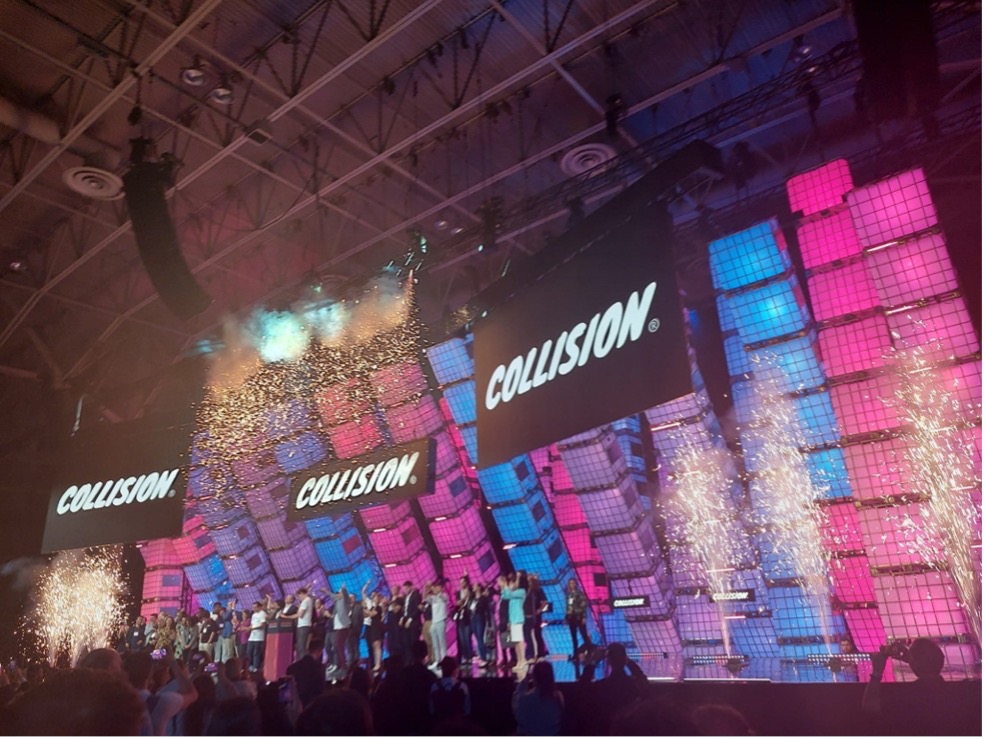 Collision in Toronto is an excellent conference for marketing and technology leaders. Technology companies that are looking to serve and supply their products and services to the vibrant research industry in Canada need to fully understand the ethical standards for client-success, and are encouraged to join the Canadian Research Insights Council (CRIC) through our ResTech category of membership. Canada's insights trade body not only grows the public's trust in research with advocacy, relevant programming and brand opportunities for diverse players in the industry, but also expands your reach and influence, working closely with global partners ESOMAR, Market Research Institute International (MRII) and CAIP, Canada's certification body for research, analytics, and insights professionals. I can't wait for next year's Collison.
Visit the archive of foresight blogs at CRIC.