Events
The pandemic forced the temporary postponement of this year's ESOMAR Congress to September 2021 in Toronto. Rather than let a whole year slide by ESOMAR is offering the all-new virtual Insights Festival from September 14-17.
The Insights Festival is an extravaganza of curated and community-generated content, conversations, social gatherings, and debates. In just four days you will have the opportunity to hear from and interact with colleagues from around the globe, as ESOMAR celebrates the data, research, and insights community and the ways in which it enriches our economies, societies, and daily lives.
View the exciting content coming your way in the advanced programme that is available online now. Insight Festival Speakers include: LinkedIn, Mars, Microsoft, PepsiCo, Bacardi, ESPN, Facebook, Google and more!
The Insights Festival is free for ESOMAR members and for all staff of CRIC member companies. Employees of CRIC member companies email CRIC to request your promo code.
Join ESOMAR using the CRIC negotiated rates to attend the Insights Festival for Free.
As part of CRIC's strategic relationship with ESOMAR, we have negotiated a special offer for Canadian marketing researcher professionals to join ESOMAR for $450 CAD. CRIC member companies registering 3 or more individuals with ESOMAR can save even more. View details and take advantage of this special offer today.
Join this unique experience showcasing the best the data, research and insights community has to offer!
Join CRIC and its strategic partners ESOMAR and CAIP Canada for a virtual townhall that will provide an update on key industry initiatives including advocacy, standards, post-pandemic support, the CAIP, ESOMAR, new CRIC committees and more. This event will also provide a forum for you to share ideas, ask questions and learn how you can get involved.
The townhall will be held on September 10, 2020 from 11am to 12pm through ZOOM. All research, analytics and insights professionals are welcome and encouraged to attend.
Register Now
Thursday-August 20, 2020-11am EDT – 90 minutes – (from ESOMAR and CRIC)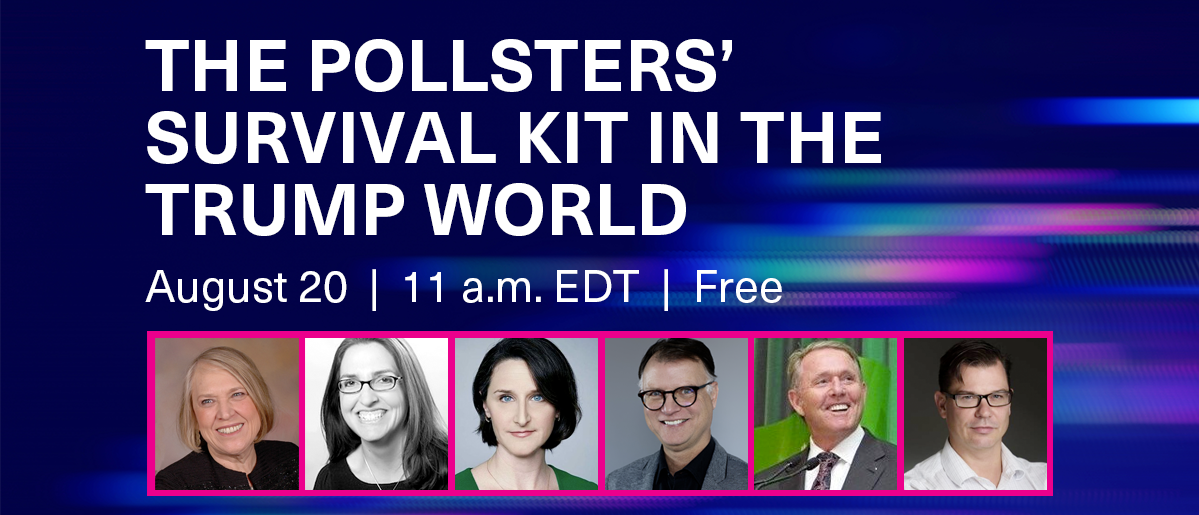 We are now less than 100 days before U.S. voters go to the polls to decide whether to stick with Donald Trump for four more years or make a change and elect Joe Biden. In this webinar, five North American pollsters will share their views on where the race stands, what seem to be the central issues, and how it's all likely to turn out.This free webinar will consist of four 15-minute presentations followed by Q&A. It will be moderated by Kathy Frankovic of ESOMAR's Professional Standards Committee. All registrants will receive access to a recording of the webinar.
Webinar-August 5, 2020-12pm EDT (from ESOMAR, MRII, the University of Georgia and CRIC) – Available on Demand
Join Susan Frede of Frede Research LLC and Aimpoint Research on August 5th at 12 p.m. EDT for a free virtual presentation on critical thinking skills. Critical thinking is a soft skill that can give researchers a leg up by driving thinking to be more disciplined and active. Strong critical thinking skills can help throughout the research process, from defining the problem to the presentation of the results.
In this webinar, Susan will define critical thinking and discuss the following:
Activities involved in critical thinking
The gap between employers' and students' perceptions of critical thinking
Techniques to develop the necessary critical-thinking skills
Webinar-July 22, 2020-12pm-1pm EDT – Available on Demand
CRIC is hosting the webinar Confronting Exclusion and Racism in Canada's Research & Insights Industry to highlight the need for change and to encourage the dialogue and action that is required to end racism and the systemic bias that Black people and other racialized groups experience in Canada.
Webinar-July 8, 2020-12pm EDT (from ESOMAR, MRII, the University of Georgia and CRIC) – Available on Demand
Join Zontziry "Z" Johnson of Zappi on July 8th at 12 p.m. EDT for a free virtual presentation on the market research process and how it drives business decisions. Theoretically, market research is a core set of steps that works in conjunction with the rest of an organization's efforts to drive business decisions using data. Realistically, that's not always how it happens. Or is it?
In this webinar, Zontziry will cover the following topics:
Reviewing the ideal market research process
Customer input as a source of data
Feeding business decisions
Theory vs. reality
Webinar-June 9, 2020-12pm EDT (from ESOMAR, MRII, the University of Georgia and CRIC)-Available on Demand
Join Zoë Dowling, Ph.D., of FocusVision for a free virtual presentation on emerging methods and the future of market research. Many elements impact how market research is designed and conducted. These include evolving technological, social, scientific, economic, and cultural forces. In this webinar, Zoë will discuss the broader landscape changes that impact how we conduct market research and explore what it means for mainstream methodologies as well as emerging approaches.
Topics will include:
Technological, cultural and business trends impacting market research
Agile research as an emerging methodology
The growth of mobile ethnographies and online focus groups
Virtual Panel-June 5, 2020-12pm-1pm EDT
CRIC's AI and Data Analytics Thought Leadership Council will explore how the use of AI and Data Analytics have been impacted by COVID-19.
Virtual Panel-May 27, 2020 1:30pm-2:30pm EDT – Available on DemandJoin members of CRIC's Qualitative Research Thought Leadership Council for an interactive, virtual panel that explores how Canadian qualitative researchers are adapting to the impact of COVID-19.
Webinar-May 20, 2020-12pm EDT (from ESOMAR, MRII and the University of Georgia)Join Jeffrey Henning of the MRII and Keith Chrzan of Sawtooth Software for this how-to session, which will start with a simple example of how to do a basic driver analysis and will then introduce advanced analytics that can make it more powerful.
For more information, contact John Tabone, Chief Administrative Officer: